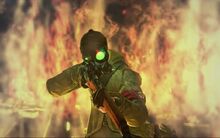 Zombie Snipers are an uncommon zombie. Using a rifle, the Sniper Zombie will jump from vantage point to another, firing at the player. They often position themselves on high areas, such as roofs and treetops. They leave behind a green glow, making them easy to track.
The Zombie Sniper switches his position every time he manages to hit the player with this rifle. He can cause quite a bit of damage, though not enough to kill a player in one shot unless they are already wounded. They also laugh when they hit a player, and will grunt angrily in disappointment when they miss.
The achievement "Give Me Something to Shoot" is given when the player kills a sniper zombie as he's airborne. The Sniper Zombie is most likely carrying a Geweher 43. In rare situations, the player can kill the sniper zombie with the Webley revolver, given if the sniper zombie is close enough for said pistol kill.