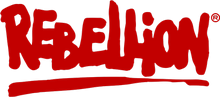 Rebellion Developments Ltd. (commonly referred to as Rebellion) is a British video game developerbased in Oxford, England, known for its Sniper Elite series. It has publishedcomic books since 2000 and launched its own book imprint, Abaddon Books, in 2006.
Ad blocker interference detected!
Wikia is a free-to-use site that makes money from advertising. We have a modified experience for viewers using ad blockers

Wikia is not accessible if you've made further modifications. Remove the custom ad blocker rule(s) and the page will load as expected.